Being a Disney Cast Member has so many amazing things attached to it. Not only do I get to make magic every day (seriously, even when I am not working) but I get to go to a lot of special events and work at really cool places.
About a week ago Daniel, Elyse (one of his coworkers) and I got to sit in the Director's Seats for the Lights, Motors, Action! show at Hollywood Studios. It's an extreme stunt show with real stunt drivers and cars. These seats are usually just given to a family of 4 as a magical moment, but Elyse got us on a list and we were able to sit in them! They're the closest you can get to all the action, and cars drive right in front of you!
Here is a video of part of the show
, in case you want to see a little bit of what it is. So that was REALLY cool because most people never even know those exist!
Another cool thing we got to experience was the cast preview of The Osborne Family Spectacle of Dancing Lights (in short, Spectacle). It was the day before it opened to the public and debuted for the year. We got free hot chocolate and cookies, and got to watch clips of Christmas movies and shows before it started. It was absolutely AMAZING and it snowed in Florida! Eeeeee! I can't post any pictures , because my mom isn't allowed to see any of the Christmas decoration around here until she comes to visit. ;)
there's a little tiny preview!
On to the next...
At Hollywood Studios there is a restaurant called Sci-Fi Dine-In Theater. It's sot down restaurant where you sit in a car table (complete with headlights!) and they play clips from old sci-fi movies. Daniel's managers rented the restaurant out after the park closed for people to come and watch Monsters Inc. They gave us popcorn and drinks! Who can say they've seen a full movie in here? Not very many people! It was awesome. :)
/\/\/\/\/\/\/\/\/\/\/\/\/\/\/\/\/\/\/\/\/\/\/\/\/\/\/\/\/\/\/\/\/\/\/\/\/\/\/\/\/\/\/\/\/\/\/\/\/\/\/\/\/\/\/\/\/\/\/\/\/\/\/\/\/\/\/\/\/\/\/\/\/\/\/\/\/\/\/\/\
As many of you might know, the boyfriend has gotten me into this pin trading thing. I won't go into a lot of details because there's a lot to explain, but bottom line is that cast members wear lanyard with pins on them. Guests are then able to trade with the cast member to get a pin they want. So if you wanted to collect all the pins with Mickey on them, you would go trade for all of the Mickey pins you find and like. I collect Belle, Stitch, and anything travel/country related. I am also spelling out my name in these letters: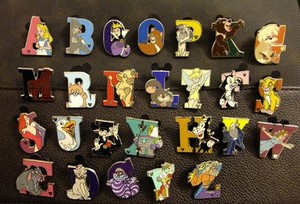 I have everything but the T with Tinkerbell on it. A guy came up to me while I was at work with a vest full of pins (some people get crazy about this stuff!!) He asked if he could see my pins, and he didn't see anything he wanted. He asked me if I saw any on his vest and I told him he had a lot of good ones, and that he had one that finished my set (the T!!!). So he gave it to me! He told me he was spelling his name too (Frank) and that he needed the F and the K. In the last 2 days I have seen both of those letters on cast member's lanyards, haha. I guess he comes to the parks on the wrong day. Either way, he made my day and I was smiling all day!
Then a couple days later, D and I were at Downtown Disney and a cast member was oogling over a Belle pin that I had. I had two of them so I gave it to her and passed on the good pin karma. Doing nice things just make you feel good. :)
You all should do something nice for someone today. Or every day. :)
XOXO
K